| | | | |
| --- | --- | --- | --- |
| Poster: | Skobud | Date: | October 05, 2012 06:35:41pm |
| Forum: | GratefulDead | Subject: | DDP V 16 |
This as a classic performance. I have owed this one for a long time, as I started it when we review clubbed it back in February at TA. Sometime these fractals really do take forever for me to get them exactly where I want them. Anyways, I would say that I definitely do feel a little differently now about what I said in the review opposed to now(Ive listened to much more '77 since this review 8 months ago), but I basically still stand by what I wrote. I think Dick would have actually picked this show, and its amongst the very best of '77 for two reasons - the obvious tightness and charisma, and the second set - well, the whole thing basically kicks freakin ass the whole way through. Unreal night of music outta them. What a great listen this one really is top to bottom. By far my fav Halloween-esque show. Its that time of year already. Hard to Believe...Anyhow, here's my review from last February:
10/29/77
Evans Field House
Holy Shit where to begin with this show…Ill start by saying I have never heard it, and I never had it recommended to me before either. I truly went into this one blind and I am glad I did.. I listened to the Matrix and it was a great way to hear this show. The crowd was so into it and the energy was through the roof right from the jump. I had no idea going in what I was in for with this one.
This show takes flight immediately upon the first riff of Might as Well, and never looks back. Incredible version of this tune right here, and what a great way to open a show. Overflowing with good vibes this opener delivers the goods in perfect time. Everyone sounds very tight, and Jerry sounds great. Outstanding! On the heels of that smoker comes a very delicate and well jammed Jack Straw. Perfect placement after Might as Well. Slowly builds and really gets it on the way out. Jerry is really getting it tonight two songs down and I am very impressed. From there we head into a Dire in which Jerry's voice sounds kinda strange at the beginning..It's wavering or something, kinda like people sound when they are nervous..Anyways, it's not like that had an affect on the tune as it was pulled off quite well. I enjoyed it. The LLR that follows is Rock Star Bobby beaming at full power. Whenever I hear him croon out a good version of this tune I wonder if the women in the Hall were all blown away by Rock Star Bobby. My guess, probably so as Bobby gives it everything he has on this one. Loser kinda meanders out of the between song silence and develops very nicely. At the start, I kinda doubted a little, but about half way through Jerry grabs the reigns and takes off with it. This is also the firat time I notice Kieth and the electric piano(?) sound. They pretty much jump right into El Paso at this point, and Jerry is busy as hell during the entire tune. Scales up and down all the while Bobby is givin it Hell. My exact notes on this one was "I LIKED THAT ONE". Ramble On was up next and it was an average, albeit inspired version which the crowd seemed to really dig. Im sure that chorus/ sing a long made everyone just feel good. Minglewood follows next and it's a ferocious one at that . Bobby spitting pure venom and Jerry wailing away. Nasty as hell, and I don't know if I have ever heard a better Minglewood. WOW!! Really nice. Roses calms things down next, and I think this is the only tune so far that kinda lacked a little. Maybe they were still kinda shakin off that heavy groove the laid down during Minglewood. Who knows…We now come to the point iin the show that absolutely, completely blew me away. Let it Grow starts off with Bobby strumming that rhythm really quick, and then Jerry blasts right off like he was fired out of a cannon. This barnburner is absolutely ferocious in every way. I literally stopped what I was doing several times during this tune because I could not believe how heavy it really was. I think this monster may just be the finest LIG I have ever heard. Completely intense performance. Remarkable version….The first set is over and I am in absolute awe of what I have just listened to.
The second set start with a Bertha>Good Lovin' combo that was really suprising. The Bertha part sounded good, not great and it was gaining momentum the whole time. I was thinking it was falling a little flat just as they morphed in to GL and took off. Im not usually a fan of GL, but this one is hot. Jerry really brings it towards the end and everyone responds nicely. Suprisingly good kick off combo here.. FOTD is next and how can you not love Jer slowing things down for a moment with this one. Dig it! Next we start the jam sequence which I am going to break into two parts here. First up, Estimated>Eyes – This combo is incredible in every way. The Estimated starts off slow and patient, building ever so slightly, almost under the radar. Before you know it, Bobby is once again railin away on the mic and Jerry is carrying you away into super smooth dreamy wahwah land. Enormous Estimated that carries that sweet dream-like jazzy state right into Eyes. This one is slower and more patient than any other I have heard from '77, and I am loving life. This has quickly become my favorite Estimated>Eyes. What a great transition between the two as well. They melt that hot little combo right into space into Stephen. Now, this Stephen put me off a little. Im not a fan of the really slow Stephen(kinda like that '76 JGB slowness). This one however comes a round with a vengeance and finishes nicely into a drums jam. The NFA that follows really revs the crowd into hyperspace..Oooh – *Donna Kill Alert*@ approx 4:30 of NFA, but she does not kill all of the momentum though, and Jerry is right around the corner. He drops into a very dark and very sweet Black Peter. I thouroughly enjoyed this little ballad and the crowd did too. Amazing emotion conveyed by the fat man on this one, really, really nice. Peter winds down right into a really tightly wound SugarMags. This one is a smoker that slams the door shut on the way out. Second set over and the crowd is going completely apeshit. OMSN for the encore and that is it for the night. WHEW!!
Show done and I need a moment to gather myself. This show is better than 6/9/77. This show is better than anything I have heard from '77. It was so good I gave my wife a hug after I listened to it. Finally, a show from '77 that really speaks to me. God Bless DeKalb, Illinois. This is one of the finest performance the band has ever given, and by far the best of 1977. I have a new top ten show, and it comes from DeKalb Illinois....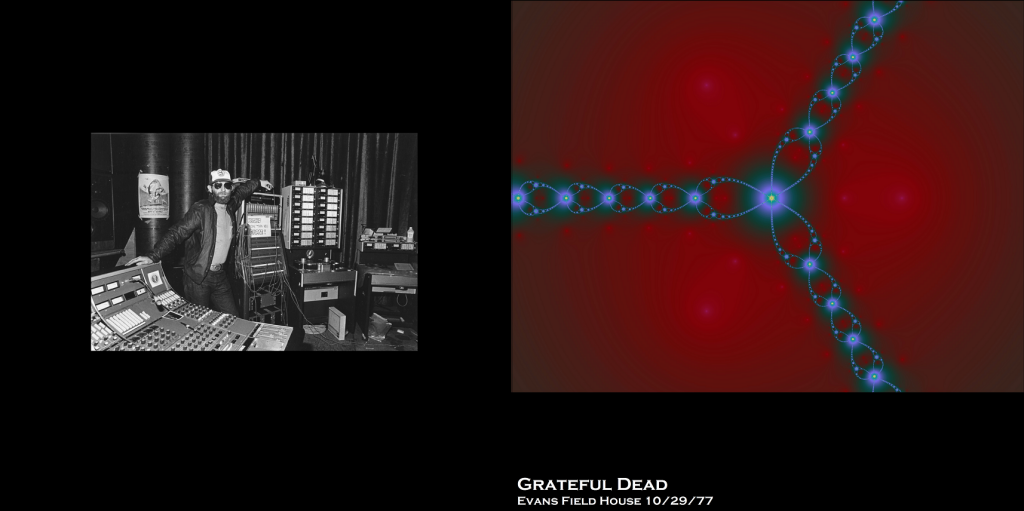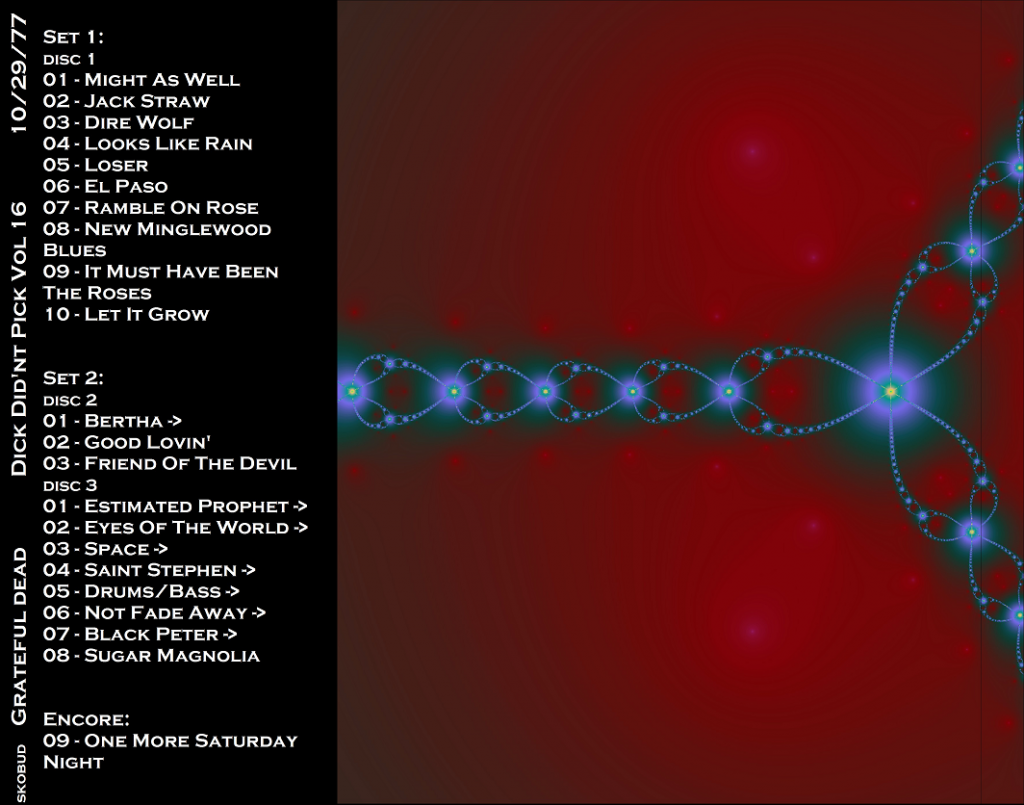 Here's the source I used:
http://archive.org/details/gd1977-10-29.mtx.hansokolow.98032.flac16
This post was modified by Skobud on 2012-10-06 01:35:41
| | | | |
| --- | --- | --- | --- |
| Poster: | Deadhead225 | Date: | October 06, 2012 08:44:56am |
| Forum: | GratefulDead | Subject: | Re: DDP V 16 |
This is a very solid show. Not my Fav. of '77, but have always had set II in pretty regular rotation. How could you go too far wrong when Phil says, "I want you to know this is the happiest day of my life" at the end of Roses. Any insight on that?
My Betty tape was originally set up: Estimated>Eyes>Stephen>Drums/NFA>Peter>Sugar Mag, Bertha Good Lovin'. Then there is a Werewolves tacked on. I like this b/c you can skip the cheese if you want and get right to the meat. Too many Bertha Good Lovin's for me.
Fractals are good unlimited entertainment.